Every Big Ten East's Future Household Name
The Big Ten is filled with iconic figures, but where statues and retired jerseys now reside, there was once just a signed letter of intent and unfulfilled potential. You know the household names in the heartland today and in the annals of history, but who are the players that will fill the void left by the starts of today moving on? We look at each team in the Big Ten, and who has the best chance of being the next superstar for good 'ole State U.
First up, we'll take a look at the East Division team-by-team:
Indiana Hoosiers:
Gone is running back Jordan Howard who made a splash in just one year running over opposing defenses. Gone too is Nate Sudfeld who beat up all other Big Ten quarterbacks in the stats department. And since the chess pieces are still being moved around by Kevin Wilson, we'd be re-missed if we didn't stay on the offensive side of the ball. For that look no further than sophomore-to-be wide receiver Nick Westbrook.
The chances of the Hoosiers letting it fly around the yard plenty this fall are about as good as gray skies entering the equation come late November in the Midwest. And although Indiana returns its top three receivers in 2016, at 6-3 with plenty of speed, Westbrook is going to breakout at some point this season. If he doesn't take over as the favorite target at some point this year, it's almost a guarantee in 2017.
Maryland Terrapins
To say the Terps are a work in progress would be a bigger understatement than saying Donald Trump needs a new hairstyle. Regardless, someone has to step up as the main cog in an offense that was far too inconsistent in 2015. Though new head coach DJ Durkin, he's had stops at places like Michigan and Stanford, and there's a good bet that, he's married to a tough nosed approach that revolves around running the ball.
Enter stage left sophomore running back Ty Johnson. At 5-10, 184 lbs., Johnson showed flashes of his game-changing abilities last year with 250 yards on just thirty-five carries (7.1 avg.), but simply failed to get enough opportunities in a season of trial and error for the Maryland offense. Look for that to be different in 2016. Durkin will want his defense to be well rested, and he'll likely feature Johnson and the running game as long as he can withstand the pounding.
Michigan Wolverines
You know it, I know it, and almost every football geek on the planet knows it. Defensive tackle Rashan Gary is going to be an absolute beast for Michigan. He was the consensus No. 1 recruit last year, and for good reason. Gary possesses an uncanny blend of size, speed and power that has many believing he can contribute immediately.
The maize and blue sky appears to be the limit for this kid, and don't think his freshman status will keep Harbaugh and company from allowing him to be a part of a defense that should be more than formidable yet again. This might not be the monster of all years for him, but those days appear to be on the horizon sooner rather than later.
Michigan State Spartans
There are plenty of pieces to replace on offense for Mark Dantonio's crew, but there's one guy that continued to get rave reviews from players and coaches alike for his play-making abilities in the spring. All-everything quarterback Connor Cook is gone to graduation, but at least presumptive starter Tyler O'Connor will have a potential stud in the making to throw to with wide receiver Donnie Corley lining up on the outside.
It's not often that a guy is singled out so often as a recurring theme, but veteran and rookie players alike have continued to sing the praises of Corley's speed, athleticism, football IQ and work ethic. Just a freshman, Corely is a sponge, and at 6-3 has the size and abilities to go up and make the tough catches, while also displaying speed to simply out run defensive backs. The Spartans will need to find a replacement for guys like Aaron Burbridge, and Corley seems to fit the bill.
Ohio State Buckeyes
Running backs seem to grow on Buckeye trees in Columbus, so you're almost always looking for the next great one. Beanie Wells gave way to Carlos Hyde who gave way to Ezekiel Elliott who will give way to … Mike Weber.
If it weren't for injuries and an absolute boss in Elliott already toting the mail in the 'Shoe, you'd likely already have  Weber jersey's being made and sold in the local Buckeye Corner (unofficially of course). Urban Meyer might start the year with a running back by committee approach, but when healthy, Weber has the speed, power and vision to be the next good one in Columbus. He's a good bet to take over the lions' share of carries once things begin to get serious down the stretch.
Penn State Nittany Lions
Head coach James Franklin is still trying to get the Penn State program into the same conversations as brethren Michigan State, Ohio State and Michigan, but he has huge holes to fill on the defensive line with the graduation of defensive tackle Anthony Zettel who is off to the NFL.
Though undersized at 6-1, and 267 lbs, former end turned tackle Kevin Givens is the likely heir apparent. Coming from seemingly nowhere in the spring, all Givens did was record 2 sacks and 3.5 tackles for loss in the one half of the annual spring game.
He's quick off the line and possesses instincts towards the ball that simply can't be taught. He was tabbed as the surprise of the spring by the coaching staff, but don't let it be a shock if he's the next in line of many Penn State defensive linemen who end up playing on Sundays.
Rutgers Scarlet Knights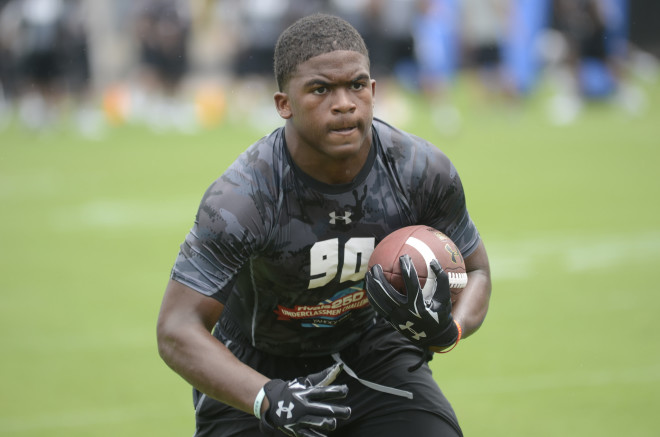 Former Ohio State D-coordinator Chris Ash inherits a program in turmoil and it's unlikely to be an overnight strip-mall build towards relevance — especially in the same neighborhood as the Buckeyes, Wolverines and Spartans. Needless to say, the new coaching staff will be looking for star power immediately. Unfortunately for him, the pickings are somewhat slim.
One guy to keep an eye on however is incoming freshman running back Trey Sneed. At an unpolished 5-10, 205 lbs, Sneed is one of four freshman that enrolled early, and was recently the only true freshman to be "knighted" — having his black-stripe removed from his helmet signaling a welcome to the program type moment. He has the work ethic, leadership and skill set to be a star in the Rutgers backfield. It might not happen this year, but he's got everything in front of him to be a showcase back.
Good, Bad, Ugly: The tale of Buckeyes, Badgers and Illini in Week 3
There is no two ways about it — Week 3 was the Big Ten's collective worst nightmare. 
Just take a look at the final scores from the weekend:
So, on a Saturday in which contenders were dropping like flies, how do we make sense of what took place? 
Let's take a look at the good, the bad and the ugly from Week 3 around the Big Ten. 
The Good
On a weekend that saw so much carnage from Big Ten teams, there is no doubt that Ohio State's big win over TCU is the good of the weekend. It wasn't just that the pickings were slim either, the Buckeyes put on a show in the win over the Horned Frogs at AT&T Stadium in Arlington, Texas. 
With the eyes of most of the college football world on them, OSU came up big. They punched hard first, going up 10-0 and then took a big punch from TCU for a pair of touchdowns, the last of which was a school-record 93-yard run by Darius Anderson for the 14-10 lead early in the second quarter. 
Let's not forget there were two defensive touchdowns (albeit one shouldn't have counted after further review that never happened on the field), including a "fat guy" TD by Dre'mont Jones. 
Lost in some of the craziness was the fact that Dwayne Haskins showed out in a big way. He was 24 of 38 for a crazy 344 yards and two touchdowns in the win. Haskins also had a rushing touchdown to cap off all the offensive scoring for his team. 
Sure, the defense gave up 511 yards, but it seemed more a byproduct of TCU's offensive style than anything worrisome about the Buckeyes defense. After all, they forced three total turnovers, had three sacks and seven tackles for loss on the day. 
It was a shot across the bow of the rest of the elite in college football and arguable the most dangerous the Buckeyes have looked on both sides of the ball in awhile. 
The Bad
There's no where to go here other than to head to Madison, Wis. where the Badgers came in to their contest against BYU with a 41-game home non-conference win streak. 
By the time the mid-afternoon matchup was over, the Badgers streak was also over and it wasn't a fluke. The visiting Cougars took a page out of the Wisconsin playbook and simply out-muscled the Badgers on both sides of the ball. 
UW's normally potent run game averaged just 4.7 yards per carry. Its defense allowed 191 yards to BYU on the ground. That pretty much sums up the shock that happened inside Camp Randall. 
For the first time in over 15 years, a non-conference opponent came in to Camp Randall, outplayed and finally beat the Badgers. We'll see if this is a wake up call or the start of a snowball effect that can't be stopped. 
Having rival Iowa on the road and at night should certainly get the Badgers attention this coming week. 
The Ugly
Sure, we could've gone with Northwestern getting blown out by a MAC opponent at home. There was also Rutgers' piss-poor day at Kansas and Temple working over Maryland. But, those were all blowouts and there was just one loss that hurt more than any other…Illinois.
For just over 57 minutes, this week felt different for Illini fans…until South Florida's Darnell Salomon hauled in a 50-yard touchdown from Blake Barnett with 2:24 to play.
That was just a downright brutal blow to a program that could've used the win in the worst way. Illinois got an early touchdown from running back Mike Epstein and then four field goals (three of which were over 40 yards) for a 19-7 lead late in the third quarter. 
Then the fourth quarter happened and you could just feel the game slipping away. Just over three minutes after the last of Illinois last field goal, it was Salomon who broke through with a 14-yard touchdown catch to make it a 5-point game. Add in a field goal midway through the quarter and a 19-7 lead was whittled down to 19-17. 
But, the Illini really only have themselves to blame. After all, they squandered four drives that were in USF territory and couldn't get in the end zone. The Illini also couldn't score a single point in the final quarter, and that's usually not a good thing. 
The play in the final stanza was particularly brutal, as USF's defense held the Illini to just 94 total yards and forced them to go 2-of-7 on third downs. That's how you lose a game you should've taken care of. 
If there was a silver lining in the ugly way this loss happened, it was that MJ Rivers' debut at quarterback was a success. He was 20 of 29 passing for 168 yards. While he didn't get in to the end zone through the air, Rivers also didn't turn the ball over while passing either. That's a positive step lost in the brutal way this loss took place.